Amber here, taking over the WRC blog tonight to share some more inspiration for "Get Creative with Critters" week!
I love these simple images that are perfect to use in clean and simple cards or with Copic drawn background & have nice areas to cut out for cute shakers, like mine--plus, if you know me, you know I can't get enough of cute, punny sentiments!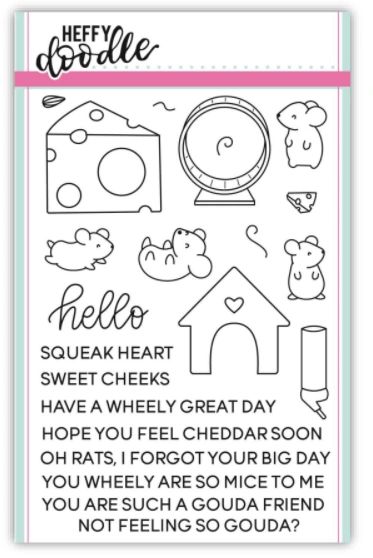 For this card, I decided I wanted a single layer scene to go with my fussy cut shaker elements. I started by drawing the front of the cage--just 3 lines--lightly with a pencil. I used post-it notes to mask so I could stamp the little mice so they look like they're inside the cage. Then I stamped the cheese, and exercise wheel in Memento Tuxedo Black ink, which is Copic friendly & colored the images. I used a kraft knife to cut out the bubbles in the cheese and center of the wheel for my shakers.
Next I used a pencil and straight edge to sketch out the basic shape of the rest of the cage, then I traced those lines with a water based, fine tip, black pen, before coloring in the rest of the scene & stamping the "Hello Squeakheart" sentiment in
Versafine Onyx Black ink
.
To create my shaker boxes, I cut two 4x5.25 inch pieces of self adhesive Fun Foam, adhering the non-sticky sides together with double sided tape. I placed my card front over the fun foam and used a pencil to trace the openings for my shakers. Then I used a sharp kraft knife and non-stick scissors to cut openings, slightly larger than the traced openings. I backed the openings with a Judikins acetate sheet, before adhering my card panel to the shaker foam. I flipped the whole thing over and added some Doodles Paper Playground: Sparkle Blends to the shaker openings. I used Flaming Sunset for the cheese and Lilac Luster (out of stock) for the exercise wheel. I backed the cheese with a scrap of yellow cardstock, and the wheel with a scrap of purple, so no bits would escape & then adhered the whole panel to a top folding, A2 landscape card base.
Check out the huge selection of critter supplies over in the store!